Are you still wondering where to shop in Toronto for a Halloween costume for your little ones? If you're scrambling for last-minute options, check out our article here to Shop in Toronto: Halloween Costumes for five great selections from Toronto moms. Today, we're going to focus on just one of those suggestions: Pottery Barn Kids.
Pottery Barn Kids has adorable costumes for kids from babies to eight-year-olds, ranging from astronaut to mermaid to superheroes for both genders to woolly mammoths. There are a lot of outfits inspired by children's literature as well, including Thing 1 and Thing 2 and The Lorax from Dr. Seuss, and Max's wolf suit and a monster from Where the Wild Things Are. No matter your children's ages and preferences, there's sure to be something that meets your needs.
Where to Shop in Toronto for Super-Cute Halloween Costumes
I recently had the chance to try out a dragon costume for my own five-year-old son. He had been asking to be a dragon this Halloween and I didn't know how I was going to pull it off. I sew, but not that well, and I had no idea where to shop in Toronto for such a specific costume. Pottery Barn Kids saved the day when they offered to send me one. From his first sight of a photo of the costume, he was in love. He wears it everywhere – the playground, the grocery store, the library, the pumpkin patch, and on and on and on.
The costume itself is a bodysuit and headpiece, made out of soft fleece. While my son has green clothing he could wear underneath his dragon suit he usually prefers to just wear it with his regular clothes. I think it looks fine even without a perfectly matching shirt or pants. It's surprisingly lightweight, so when my son is done wearing it I find it easy to carry around (my kid can't be the only one who goes through 15 wardrobe changes a day, right?). Plus, it's very easy for him to put on and take off by himself, which is handy. I also appreciate that it's cozy and easily fits over warm clothing, so he'll stay warm while he's out trick-or-treating.
Halloween Fun for Everyone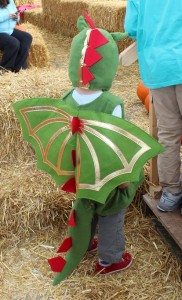 The costumes at Pottery Barn Kids are not cheap – the dragon costume my son received retails for $116. However, they are high-quality items that will have a long life in the dress-up bin after Halloween is over. Also, because many don't have legs or arms they will continue to fit as kids grow. If you're going to buy a costume, you'll do it knowing you're making an investment in something your kids can wear again and again, rather than something to throw away on November 1.
Pottery Barn Kids doesn't just carry costumes. If you stop by you'll also find Halloween treat bags, decor, tableware, games, books and more. They also have adult costumes to complement the children's outfits, like a grown-up Cat in the Hat to accompany Thing 1 and Thing 2. If you add Pottery Barn Kids to your list of where to shop in Toronto this Halloween, you may also want to check out some of their holiday items while you're in the store. You can knock off the costumes and the stockings all in one stop. Plus, you can feel really on top of things, as your friends admit they haven't even started to think about the holidays.
There are three locations in the GTA to choose from, so wherever you are, you shouldn't be too far from a Pottery Barn Kids.
Pottery Barn Kids