Boxing Day may have come and gone, but thanks to the way that Boxing Day sales have now become Boxing Week sales – and even Boxing Month sales – there are still plenty of deals to be had around Toronto. If you have your eye on some fashionable finds, though, you'll want to be careful that the piece that looks so great in the story really works in your closet. Today we're sharing tips on how to avoid common Boxing Week sale pitfalls, so that the style you invest in works all year long.
Boxing Week Sales: Beware of Fashion Traps
1. Buying the Same Thing Over and Over
One fashion pitfall that many Toronto moms fall into is buying the same thing over and over. If you have seven cardigans but a serious shortage of skirts, or plenty of fancy dresses but a scarcity of dress slacks, or lots of black heels but no boots, you may be able to relate. Many of us find that one thing or another seems to catch our eye every time we head out to do some shopping. Maybe it's because it's a 'safe' item that we know is flattering. Maybe it's because it's fun to play dress-up. Whatever the reason, if you find yourself buying the same thing over and over, do a fashion inventory before you leave home so that you know what you actually need to avoid falling into this trap.
2. Succumbing to the Lure of the Deep Discount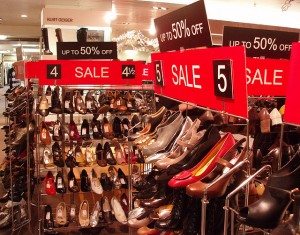 When clothes are discounted by 40%, 50%, or even 75% (or more), you may feel tempted to buy something just because you don't want to miss out. After all, you're saving so much money! However, the money you do spend is wasted if those clothes never see the light of day, no matter how cheap it may seem at the time. A great litmus test is to ask yourself whether you'd still want to buy it at full price. If the answer is no, then move on to other Boxing Week sales for something that would tickle your fancy no matter what the price tag said. Then you'll really feel like you're getting a great deal.
3. Listening to Other People's Opinions Instead of Your Own
Shopping with a friend who can really tell it like it is can be a great way to avoid a potential fashion faux pas. On the other hand, sometimes when we shop with someone else we fall victim to peer pressure. We find ourselves buying what our friend, our sister or our mother thinks we should buy, instead of what we actually like. If you're honest with yourself, once you're back home you're going to reach for your favourite shirt, not someone else's favourite. Before you buy something, be honest with yourself about whether or not you really like it, or if you're really buying it because someone else says you should.
4. Feeling Rushed
Allow us to paint a picture for you. Imagine that you really need a new skirt, but you don't have much time to shop, and the first couple of stores you visit don't have anything promising. Perhaps you have somewhere to be, or perhaps you have a reluctant child with you who keeps asking to go home. Eventually, you buy something you don't really like just so that you can get out of there. If you can relate, you know what it's like to shop when you're feeling rushed. The problem is that when we're feeling pressed for time, we often don't make the best decisions. Avoid hitting the Boxing Week sales when you're in a rush, and avoid bringing along any reluctant companions, so that you can take your time and spend your money on something that actually works, instead of whatever you happen to see first.
There really are some great deals to be had at Boxing Week sales. By watching out for these four fashion pitfalls, you can be sure that you'll still be wearing your purchases well into 2014 – and beyond.
*Photo credits: Images taken from Flickr, Gift Boxes by FutUndBeidl and Shoe Sales by I See Modern Britain